One Day Safari Trails on Moholoholo - a Big 3 Reserve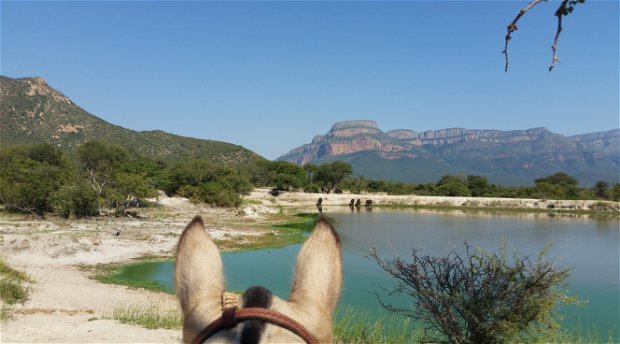 Ride a beautiful horse from Khaya Hanci through the Lowveld Acacia Woodland on Moholoholo Mountain View: a Big 3 safari reserve that is home to a wide variety of birds and animals such as Buffalo, Hyena, Hippo and Leopard as well as plentiful plains game.
Experiencing the South African bush on horseback is unsurpassable. During the excursion you can expect to experience the towering height of a giraffe at close quarters, hear the call of the fish eagle, and canter towards the Drakensberg Mountains in a moment of pure natural adventure.
With the sweeping lowveld landscape beneath, our horses convey you from citrus plantations, to thick bushveld and on to open mountainous views - a quality equestrian safari experience.
You will experience wildlife in its natural habitat, enjoy hippo cooling off in the dam while listening to the sound of horses and the various calls of the bush. Time in the saddle has never been this well spent.
Trails ranging in distance from 2 to 8 hours
6 Hour trail includes a picnic at a watering hole
8 Hour trail includes a complete al fresco lunch at the bush camp
2 Person minimum booking
For safety, our trails are for experienced riders only. Khaya Hanci reserves the right to determine riders' experience levels through a questionnaire or pre-trail demonstration.