2 Day 1 Night Horseback Trail On Moholoholo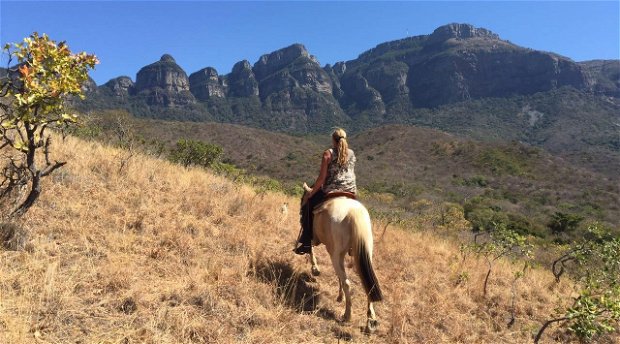 A two day horse riding safari with one night in the tranquility of a wilderness bush camp. The equestrian safari trail winds through the foothills of the Drakensberg Mountains at Moholoholo Mountain View; a game reserve with spectacular views and wildlife, which includes buffaloes, giraffes and many other animals. All in all the most natural safari experience for the animal lover.
Ride into the rugged foothills of the Limpopo Drakensberg, enjoying the lush vegetation and majestic views as you are immersed in the melodic bird song symphony, syncopated by the hooves of your horse.
Marvel at the breathtaking scenery as you arrive at Moholoholo Mountain View Bush Camp for sundowners. Gaze up at the impressive peak of Mariepskop through clear fresh air, and enjoy an evening around a crackling fire underneath a tapestry of stars.
The bush camp is a welcome escape from civilisation, where you can enjoy the unique sights and sounds of the bush, undisturbed. The towering mountain range looms overhead, supplying breath-taking views throughout the ride; a trail of diverse terrain for our sure-footed horses.
Weekend trips for groups of 2 (Minimum booking)
Weekdays only for groups of 3 or more
For safety, our trails are for experienced riders only. Khaya Hanci reserves the right to determine riders' experience levels through a questionnaire or pre-trail demonstration.